A Very Panna Cotta Christmas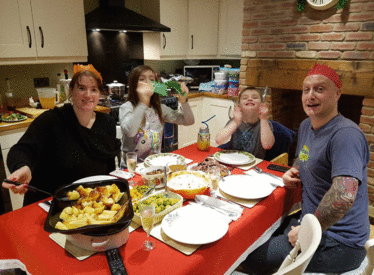 A very successful Christmas dinner this year - possibly our best yet. Everything was ready on time (well, at the same time) and we managed not to burn any of it! Now if I can only find that perfect starter...
As is now traditional, Flora joined Kurt, myself and his delightful children for the Big Day. Though this year she arrived sans oysters. Tut. We just had to make do with extra rounds of bloody marys instead. The pain!
She did make up for it by not forcing me outside for a walk through the woods to the pub on Boxing Day this year - I suspect she was just too hungover. Which meant I didn't get out of my pyjamas for a whole month. Much to Kurt's neighbours discomfort. Well really - what else is Christmas for?
Things we got right this year:
When the goose is cooked to your brother's satisfaction remove it from the Gas Mark 3 oven, cover thoroughly in tin foil, and leave in a warm place. It will keep its heat for a good hour, which means you can now fill the oven with potatoes and parsnips to roast perfectly at their preferred high temperature without burning the goose to a cinder.
You should also use the time to scoop the stuffing out of the goose into an oven dish to give it a lovely crunchy finish on the bottom shelf.
Just six hours from kickoff to chowdown for our 6kg goose.
We wisely decided, despite my careful warm-up exercises, not to attempt anything more demanding with the sprouts than steaming them. So they came out quite edible. If dull.
Back to my cold, damp boat now I suppose. Sigh.
Roll on next Christmas.
Stilton Panna Cotta with Balsamic Glaze
starter veg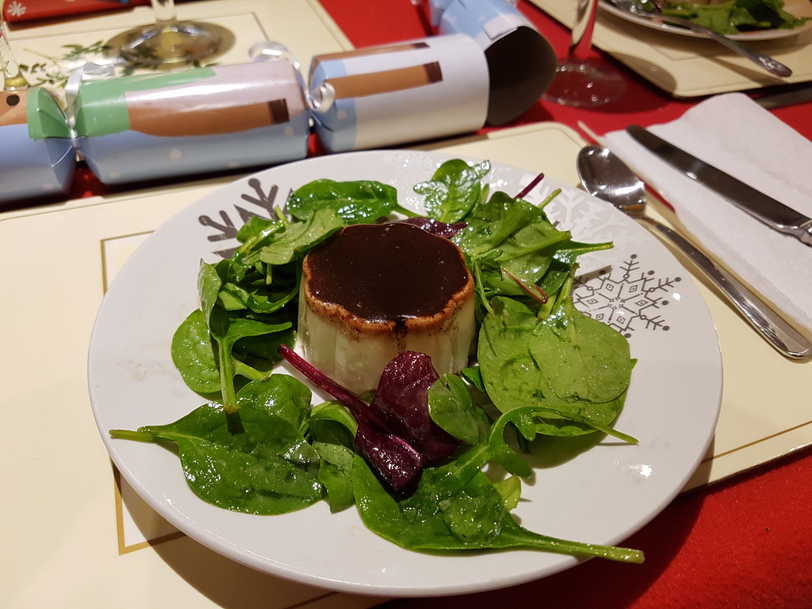 Following the failure of my
jerusalem artichoke soup
to impress, I decided to go with blue cheese panna cottas for this year's starter.
Stilton seemed appropriately Christmassy, though other softer blue cheeses are also available. And perhaps preferable!
The flavour is pretty intense - so ideally you want to make them quite small, perhaps about the size of an egg cup. Feel free to play with the proportions of cheese to cream. I had the idea of incorporating ricotta into the mix too, but I didn't like the resulting graininess.
A tablespoon of powdered gelatin (one packet), equivalent to 4 gelatin sheets, should be enough to soft-set 1 pint of liquid. Meaning 1 sheet should set 120ml, so I figured that 1½ sheets should be good to set 180ml, leaving ¼ sheet for the glaze.
Makes 180ml - about 3 egg cups.


1½ sheets gelatine
about 130ml of cream
50g stilton
sugar to taste


¼ sheet of gelatine
1 tblsp of (brown) sugar
1 tblsp of port
2 tblsps of balsamic vinegar
Set the gelatine sheets to soften in cold water. Squeeze them out before using.

Put the sugar, port and balsamic vinegar in a small pan and simmer until reduced by about half, then add about ¼ sheet of gelatine and stir to dissolve.
Pour this into the bottom of your egg cup, ramekin, or other mould.

Mash the stilton with a fork. Bring the cream almost to a simmer, stir in 1½ sheets gelatine until they dissolve, then blend in the stilton. Add a little sugar if you like.
Allow to cool off before carefully filling your mould without disturbing the balsamic glaze too much
Put in the fridge to set.

To serve: dip the mould briefly in boiling water to loosen, then turn out onto a plate. Serve with a small salad, and perhaps some figs or pear slices.