Leftover Liquorice Day
Ah, the joy of living off dinner party leftovers.
Today I used up some of the Liquorice and Blackberry sauce and the Braised Cabbage from my last
meal
. I happened to pop into Clark Bros - my Musselburgh fishmongers - for a lunchtime kipper today, and was surprised to discover that they'd (
finally
) managed to find an enormous stock of squid ink, so I had another go at my previously disappointing
Pasta Al Nero
.
I'd also been thinking of trying out the Liquorice sauce with something other than pheasant - duck or venison maybe, and the lo the gods were obviously smiling on me this week: after almost giving up on Asda's pitiful meat cabinets (and not having found the time to get to a
real
butcher what with my cylinder heads filling up with water and all) I found a single plastic pack of edible-looking duck breasts last night, so I grabbed them quick.
This time, when I freshened up the sauce with some extra blackberries I didn't bother with any red wine - just a good dose of Creme de Cassis, and a glug of port to simmer up another half dozen blackberries or so. Finished off with a couple of teaspoons of liquorice essence.
Pan-Fried Duck Breasts with Blackberry Liquorice Sauce
main fowl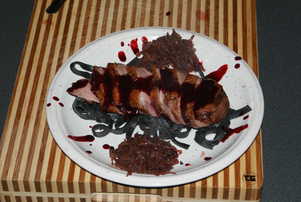 Served on a bed of Tagliatelli Al Nero Di Seppia, with a side saddle of Braised Red Cabbage.
Yes - you're right, they don't really work together - delicious though the cabbage undoubtedly is, it doesn't go with the black pasta, and the squid inky flavour is too subtle and delicate for the robust sauce. It might work better with a stronger flavour (more squid ink perhaps?) but I'm not convinced that's physically possible. Something to try next time.

I think something like a nutty couscous, butternut squash purée or nutty parsnip purée might work, and you could substitute spinach, or swiss chard for the red cabbage. Even the samphire from my original dinner.
Serves ME!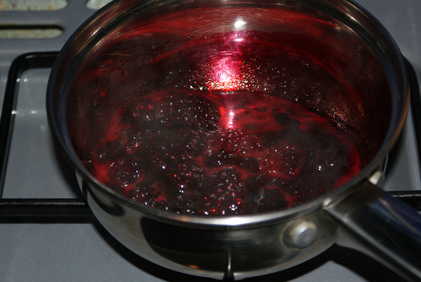 Preheat the oven to 400°F/200°C/Gas Mark 6.
Put in a heavy baking tray if you don't have a skillet that will go straight into the oven from the hob.

Bubble up some blackberries in port and Creme de Cassis (and maybe a basil leaf or two) for the sauce in a small pot whilst you get on with the duck.

First cut away any sinews from the fleshy side of the breasts - these will tighten up on cooking and deform the fillets.
Deeply score the duck skin and fat in a nice diagonal criss-cross pattern without cutting into the flesh.
Sprinkle salt (and pepper if you like) into the skin and the flesh.
Get a heavy frying pan or cast iron skillet nice and hot, and slap the duck breasts into it, skin side down.

just cooked all the way through.

They will look puffed up and sealed on the top side, which will just have turned from pink to grey. It's best to use a meat thermometer to check this if you have one - make sure the centre of the breasts have reached 125°F.

Set the breasts aside to rest for 5 minutes while you finish off the sauce - push it through a fine sieve, and dose with liquorice essence. Season with salt and add more Creme de Cassis if necessary.

Slice the breasts at an angle into nice ½" pieces (it's easier with the skin down), and serve them arranged nicely on a puddle of sauce, or with the sauce drizzled over.
Scatter a few drops of the pure liquorice essence over the top to finish.