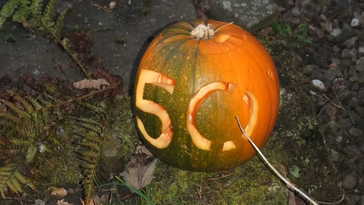 That's
my
birthday - not Bob's.
My 50th in fact. OMG.
I'm not a big fan of my birthdays as a rule. I'd much rather ignore them, or pretend they aren't happening. In fact usually my (girl) friends seem more interested in marking them than I do.
Girlies are always suckers for birthdays: Eldoradoes - I'm looking at you!
This year feels a bit different though - it would seem churlish not to mark the fact that I've made it to a half-century, against all expectations, plus to be honest I'm starting to feel some twinges of mortality - as if my body isn't really going to last forever. Grey hairs are now sprouting like pigs bristles from the most unlikely of places and my belly button seems to be determined to make a break for freedom.
So I figure I better make the most of this Birthday, in case the rest of them aren't much fun.
By booking a whole week of entertainment!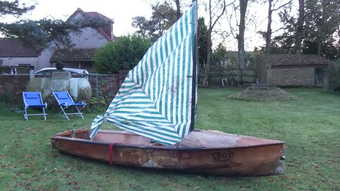 To kick things off I took the opportunity to ceremonially rid myself of the wooden albatross known as Bob - my dilapidated wooden dinghy. He's an old development-class
Cherub
once upon a time constructed by someone in their garage who had too much time and plywood on their hands, but he hasn't sailed on the open water for a couple of years now. He just sits on the tarmac at Port Edgar Marina soaking up hundreds of pounds in berthing fees every year.
Bob was once a fine figure of a boat and he has provided us with a fair amount of fun in his time - I have particularly fond memories of a three-men-in-a-tub expedition around the Beamer lighthouse in a raging storm with two heavyweight buddies (sorry buddies - you know it's true) which required as much bailing as sailing.
Unfortunately the last few times on the water have resulted in Bob having to be rescued from certain calamity, either because of important bits falling off, or
because he simply started to sink
.
So Viking funeral time.
It would have been nice to sail him off somewhere isolated and scenic, like Inchkeith Island but scenic, for his funeral pyre, but I was afraid that without an inordinate amount of time, energy, or money being spent on him he was depressingly unlikely to make it out of the harbour. Plus I couldn't find anyone
stupid
brave enough to come with me.
Fortunately my friends the Brians kindly offered their extensive property for a Bob Burning Party, plus a road trailer to get him there. So we made an event out of it, barbecue, fireworks, and pumpkin carving contest. The whole nine yards.
Thanks Brians!
Wonder what they'll do with all those leftover pumpkins?
My first Birthday present being a handy Costco card (
Thanks Alex!
) I was able to get a reasonable deal on the barbecue meat, plus a vast bottle of Buffalo Sauce - and my
favourite butcher
provided the rest. He had some very decently priced wild boar belly so I made up a batch of
wild boar and maple syrup sausages
pork, sun-dried tomato, feta and rosemary sausages
. Since the meat grinder was already out, I also had a bash at making some
spicy lamb burgers
(
Thanks Tony Singh!
).
The sausages were both well-received, and not to blow my own trumpet, delicious.
Unfortunately I had to hide the lamb burgers, since they were clearly never going to hold up through the grilling process. I had to take them home to fry in a pan! Really carefully.
I took a leaf out my American friend Becky's book and served up barbecued chicken wings with the bottle of hot sauce and freezer bags for people to dip them into à la
Buffalo
(
Thanks Becky!
), and I relearned something about organising a barbecue:
- Start it going at least an hour before people are due to turn up. That gives you half an hour to get the charcoal glowing and another half hour to have a stack of cooked meat ready to feed them with the instant they arrive. Expectant and starving.
---
And the winners of the are:
| | | | |
| --- | --- | --- | --- |
| | | | |
| For inventive use of pumpkin innards | For scare value. | Wins the car grill look-alike prize. | For age-appropriateness. |