As avid readers of this site will know Campbell's Condensed Oxtail Soup and I have a
long history
.
Now that It's become impossible to buy the condensed meaty phlegm, even from their traiterous inheritor Bachelor's, I decided I would have a go at making my own ersatz concentrate for this year's upcoming
memorial camping expedition
to Eskdalemuir.
So I began researching the contents listed for those famous old soup cans.
Depending on who's mis-spellings you believe, according to exhaustive internet searches the originals may have contained:

        Beef, Oxtail Sotck [sic!], Carrots, Sugar, Onions, Tomatoes, Salt,
        Vegetable Protein Extract (Contains Soybean), Caramel, Yeast Extract,
        Paprika (Contains Soybean), Spice Extracts (Contains Soybean),
        Contains Sodium Inosinate and Sodium Guanylate as Permitted Flavour Enhancers,
        Contains Thickener (Wheat Source) and Modified Starch as Permitted Food Conditioners. 
        Food Additives Used are of Animal, Plant and Synthetic Origin.
    
or

        TOMATO PUREE, BEEF AND OXTAIL STOCK (WATER, BEEF BONE, OXTAIL, SALT),
        WATER, BEEF, MODIFIED STARCH, CARROTS, SUGAR, WHEAT FLOUR, ONIONS, SALT,
        DEFATTED SOY MEAL, YEAST EXTRACT, SOYBEAN PROTEIN EXTRACT, FLAVOURS,
        COLOURS (E160c, E150a, E150d), SPCIES [sic!], FLAVOUR ENHANCERS (E627, E631),
        CONCENTRATED CARROT JUICE, HERB, MALTODEXTRIN, ONION POWDER, BEEF FAT, GINGER EXTRACT,
        ACIDITY REGULATOR (E330). CONTAINS SOYBEANS,
        CEREALS CONTAINING GLUTEN AND THEIR PRODUCTS.
    
This advert from 1923 lists:
Ox Tail joints, Ox Tail broth, beef broth, tomato puree, carrots (cubed), carrots(puree), turnips (cubed), turnips (puree), barley, celery(diced), celery (puree), onions (puree), parsley (puree), leek (puree), wheat flour, rice flour, kitchen bouquet, salt, sugar, cayenne pepper, allspice, cloves, bay leaves, marjoram, shot pepper, thyme, savory, nutmeg.
- A soup no home kitchen could produce.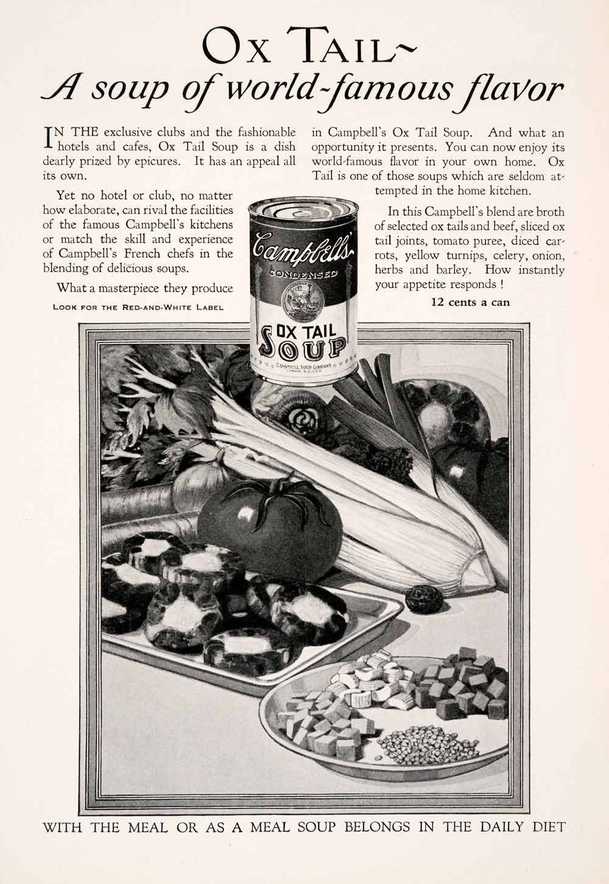 And this one from 1927 (12 cents a can!) exclaims:
In this Campbell's blend are broth of selected ox tails and beef, sliced ox tail joints, tomato puree, diced carrots, yellow turnips, celery, onion, herbs and barley.

How instantly your appetite responds!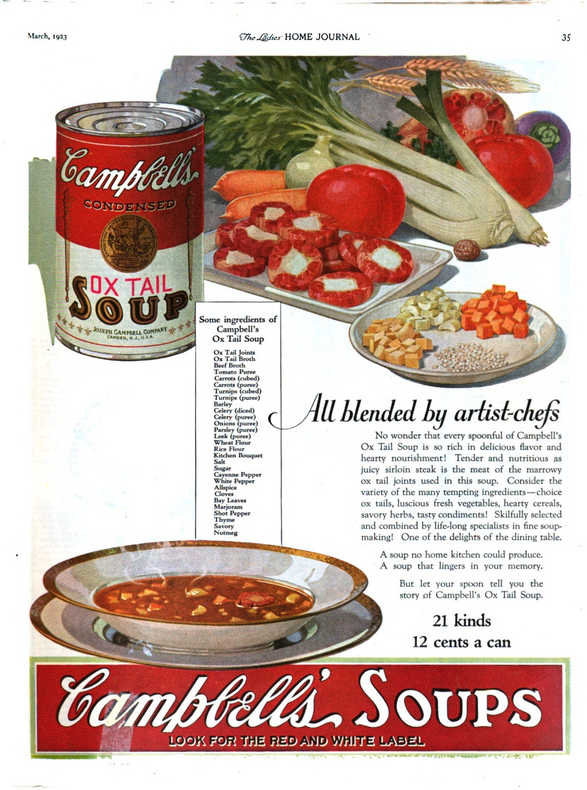 Quite a variety!
I decided to add some marmite and red wine, toast the barley and skip the cayenne pepper and the cloves. Well I'm sure you could add those if you wanted to.
Condensed Oxtail Soup
À la Campbell's
An ersatz Campbell's Condensed Oxtail Soup Recipe
meat soup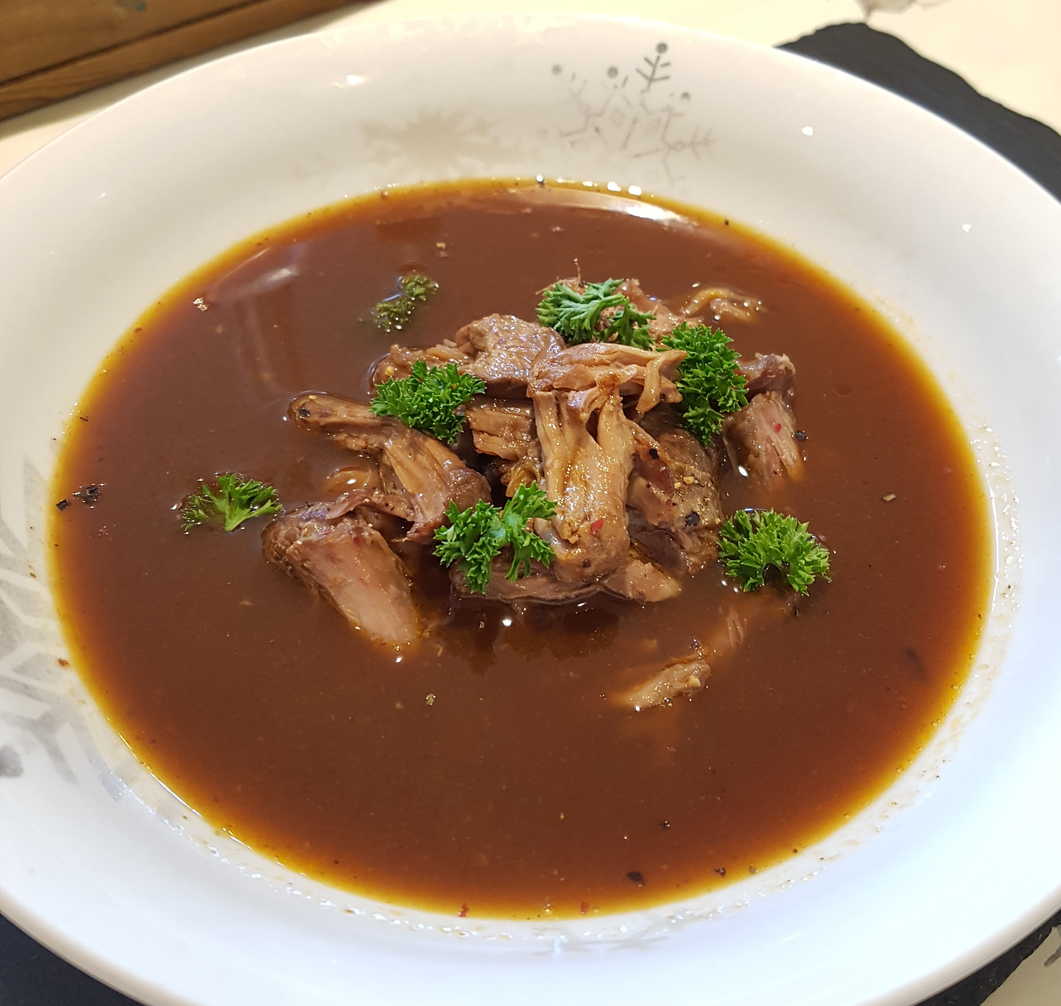 My attempt at making an ersatz concentrated oxtail soup for our upcoming camping expedition....

oil for browning
flour
oxtail
veal/beef stock
onion
garlic
carrot
celery
turnip
bay leaves
thyme
parsley
pearl barley
red wine
port/sherry
black peppercorns
star anise
cloves
bacon
tomato purée or ketchup
marmite
paprika
Toast the barley in a frying pan until it colours slightly and smells nutty. Set aside.
Coat the oxtail pieces in flour. Heat the oil in a large, flameproof casserole dish. Add the oxtail pieces in batches and fry over a high heat until browned all over. Scoop out the oxtail and reserve.

Fry the bacon . Add all the vegetables to the casserole and cook for 4-5 minutes, stirring occasionally. Add the tomato purée and cook for another minute. Add the herbs, spices, and the barley. Pour in the wine and allow to bubble for a few minutes.

Return the oxtail to the pan and cover with the stock. Add marmite and a splash of port to taste. Bring to the boil, then turn down the heat to a gentle simmer. Cover and cook gently for 3 hours, until the oxtail is really tender and falling off the bone. Using tongs or a slotted spoon, transfer the oxtail pieces to a plate and leave to cool.

Strain the cooking liquor through a sieve into a bowl and leave to cool. Pick out the oxtails and carefully strip away the meat. Cover and refrigerate until needed. Discard the bones.
Cover the bowl of cooking liquor and leave in the fridge, overnight.

The next day, scrape away and discard the layer of fat on top of the cooking liquid. Spoon the remaining jellified soup into a pan and heat through until simmering. Now start the condensing process. Reduce the stock until it thickens up. Adjust the seasoning. You may need more marmite. Continue reducing until the stock is nice and rich. Add some of the reserved meat to the stock and blend it all together to produce a very thick and meaty sauce.
Freeze it, or jar it and use as required in your camping bolognese sauce.