Aubergine, Roast Garlic and Red Pepper Pâté
Aubergine, Roast Garlic and Red Pepper Pâté
side main veg vegan
This is a simple pâté of smoky baked aubergine, sweet pink peppercorns and red peppers, with more than a hint of garlic!

3 medium aubergines
2 red peppers
5 whole garlic cloves
1½ tsp pink peppercorns in brine, drained and crushed
2 Tbsp chopped fresh coriander

Preheat the oven to 200°C/400°F/Gas 6. Arrange the whole aubergines, peppers and garlic cloves on a baking sheet and place them in the oven. After 10 minutes remove the garlic cloves and turn over the aubergines and peppers.
Peel the garlic cloves and place in the bowl of a blender.
After a further 20 minutes remove the blistered and charred peppers from the oven and place in a plastic bag. Leave to cool.
After a further 10 minutes remove the aubergines from the oven. Split in half and scoop out the flesh into a sieve placed over a bowl. Press the flesh with a spoon to remove the bitter juices.
Add the mixture to the garlic in the blender and blend until smooth. Place in a large mixing bowl.
Peel and chop the red peppers and stir into the aubergine mixture. Mix in the peppercorns and fresh coriander and serve at once.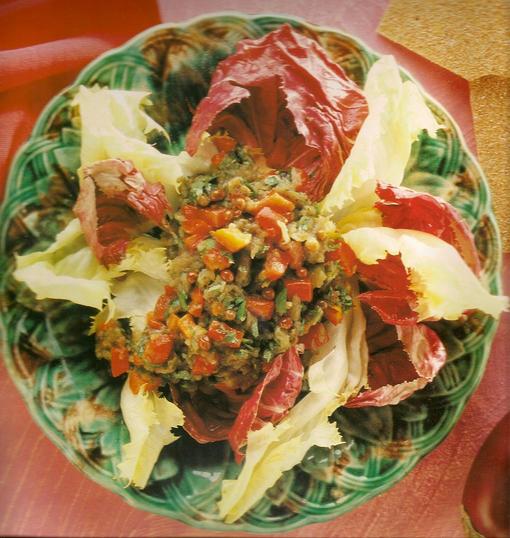 Sunflower Salsa (Mexican
Pipián
Molé)
dip veg vegan mexican
3 oz sunflower seeds
1 cup crustless white bread
1 scant cup vegetable stock
1 crushed garlic clove
½ red chilli seeded and chopped
2 Tblsps choped fresh coriander
1 tsp sugar
1 Tblsp lime juice
pinch salt

Grind the sunflower seeds to a thick paste. Add the remaining ingredients and combine thoroughly

Bulgur Wheat And Pomegranate Salad
salad veg vegan
Bulgur wheat
Fennel
Red chilli
Celery
Olive oil
Rind and juice of 2 lemons
Spring onions
Mint
Parsley
Pomegranate seeds

Prepare the bulgur wheat (or couscous?), chop the vegetables and herbs. Stir all together.