Dinner Party Dining - Course Three - The Rump of the Course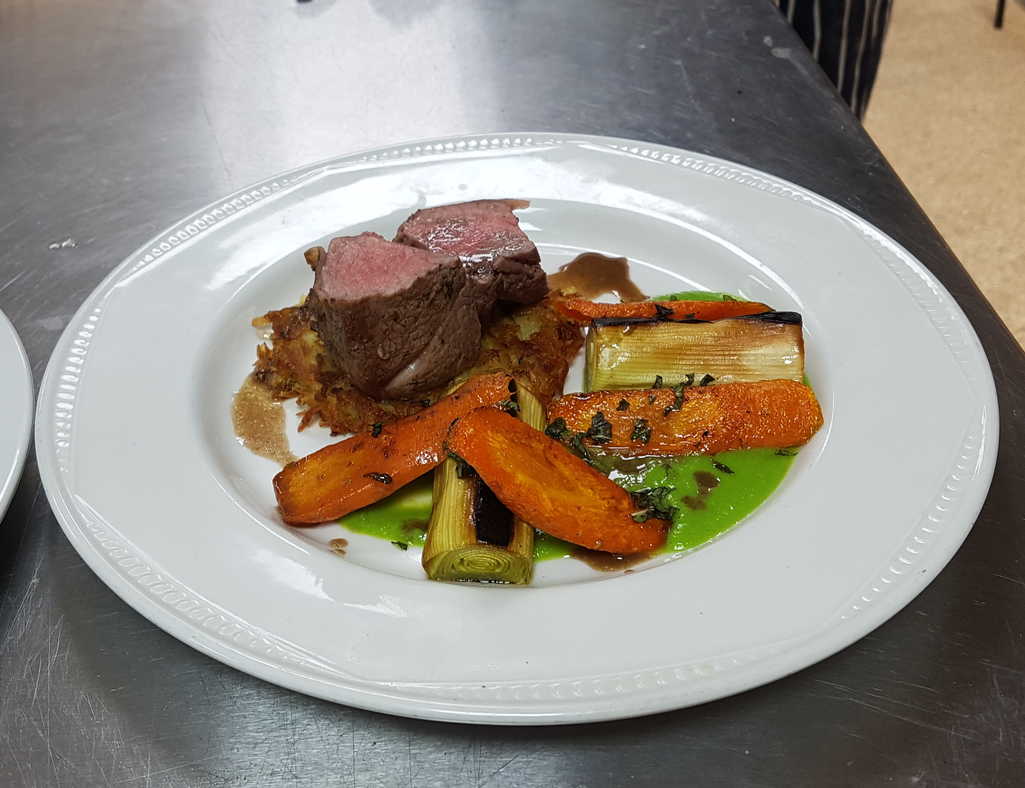 Sadly, the last class in this course. Tragically shortened due to unforseen snow, bombings and a certain amount of administrative incompentence.
It's good to end on a high note though. The meal was excellent!
Thanks David!
Lamb Rump with Vegetables and Red Wine Sauce
main meat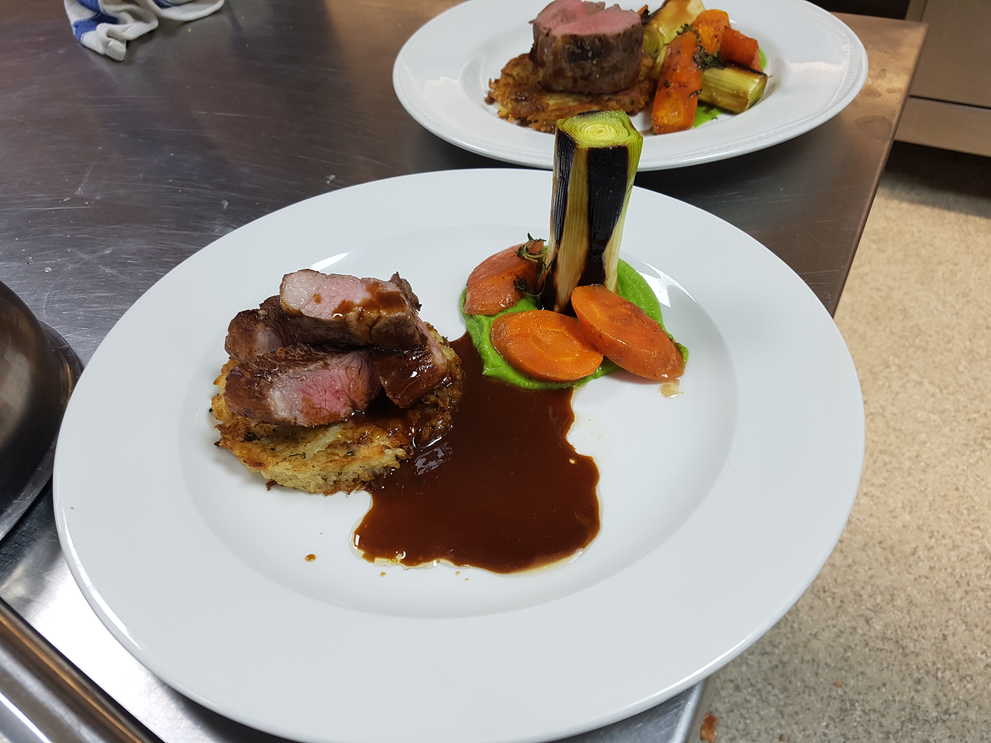 You could make this with slices of lamb rump or use a whole joint and adjust the roasting times accordingly.
I've been told that the vinegar we used to freshen our reduced red wine was redcurrant, but I think it was raspberry. And I can't find a redcurrant vinegar. Is there such a thing?
Serves 2
300g lamb rump, steaks or a joint
a few cloves of garlic
small bunch of thyme, or other herbs
300ml beef stock
250ml red wine
splash raspberry vinegar
butter pieces
salt & pepper


carrots
leeks
Pre-heat the oven to 180°C fan/200° conventional/Gas Mark 6.
Heat a large pan with a little oil and fry up any vegetable offcuts you might have just to give them a little colour.
Prepare your carrot and leek
garnishes
.
Season the lamb. Heat a lightly oiled frying pan and sear the lamb all over. Don't forget the fatty edges.
Throw a few herbs and pieces of garlic into the pan along with a knob of butter, and give the lamb a damn good basting.
Take an oven tray and make a bed of the carrot slices. Put the lamb on top, the leeks at the side, and pour the pan juices over the everything. Roast for about 5 minutes for lamb slices, 10 minutes or so for a thicker joint until the lamb is slightly rare.
Remove and allow the meat to rest.
Meanwhile pour a cup or two of red wine into the emptied frying pan and reduce to about ⅓. Drizzle in some raspberry vinegar, then add the strained, reduced beef stock. Bubble until nice and rich, then whisk in pieces of butter until the sauce is glossy and coats the back of a spoon.
Slice the lamb, plate on a
potato rösti
, add a few carrot slices, a piece of leek, a spoonful of
pea purée
and a drizzle of the red wine sauce.
Arrange artfully.
Potato and Onion Rösti
side veg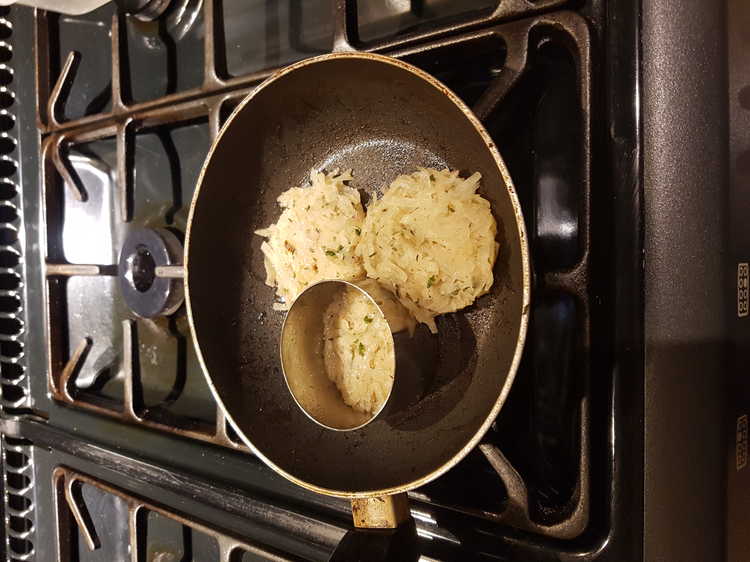 The blanching is to encourage the potato to release its starch, the better to hold its shape together.
Apparently.
Makes about Half a Dozen
1 potato
½ onion
knob of butter
thyme
salt & pepper
oil for shallow frying
Grate the potato into a bowl of water to prevent browning and the onion into another bowl .
Heat a pot of boiling water, drain the water from the potato, then pour the boiling water over the potato and onion in a single bowl. Stir for a minute, strain, then wrap in a tea towel and squeeze for all you're worth to get all of the water out.
Leave the squeezed bundle in the strainer to drain off any last dregs until required, then scrape the potato mixture into a dry bowl.

Pre-heat the oven to 180°C fan/200°C conventional/Gas Mark 6.
Melt a generous knob of butter in a frying pan and pour into the potato mixture. Season, add thyme leaves and mix thoroughly.
Heat a thin coating of oil in the frying pan, put in a cooking ring and firmly press in a layer of the potato mixture. Not too much - maybe ½" - the ring is just to give the rösti a nice shape. You're not making muffins.

Cook until the underside has browned, free the rösti with a fish slice, lift off the ring with a pair of tongs , and flip the rösti. Brown the other side.
When you've browned as many rings as you like, place them all in the oven on a tray or back in the frying pan for 5 minutes or so until they're cooked through.
De-grease on kitchen paper before serving.
Pea Purée
side veg vegan
Frozen, tinned or fresh petit pois will work. They don't need any cooking.
If you use normal peas you'll need to simmer them until they soften up.
Petit pois just need heating.
Serves 2
100g petit pois
mint leaves
a little salt
Bring the petit pois to boil in just enough water to cover. Start blending some of the peas with enough water to get things going, then add the remaining drained peas, and more water if necessary. Add some mint leaves if you like. You should end up with a mixture that is smooth but not too thin.
Push the mixture through a sieve with the back of a spoon, season and serve.
Vegetable Garnish
side
Some pretty garnishes to tart up your presentation. The longer the bias cut carrot slices the better they'll look, even cutting them almost lengthways.
Slice the carrot fatly at an angle to make attractive slices and blanch them for a few minutes, preferably in some handystock you have boiling, until slightly softened.
Drain and set aside.

Cut 2 or 3 similar lengths of leek and lay them on a hotplate to char in nice stripe down one side.
Turn them over and char the opposite side.
Char four stripes into them if they're fat enough, and stand them up to char the ends too.

Set aside to finish cooking them off in the oven with your main meat course.