Dinner Party Dining - Course Three - A Fishy Dishy for Cathy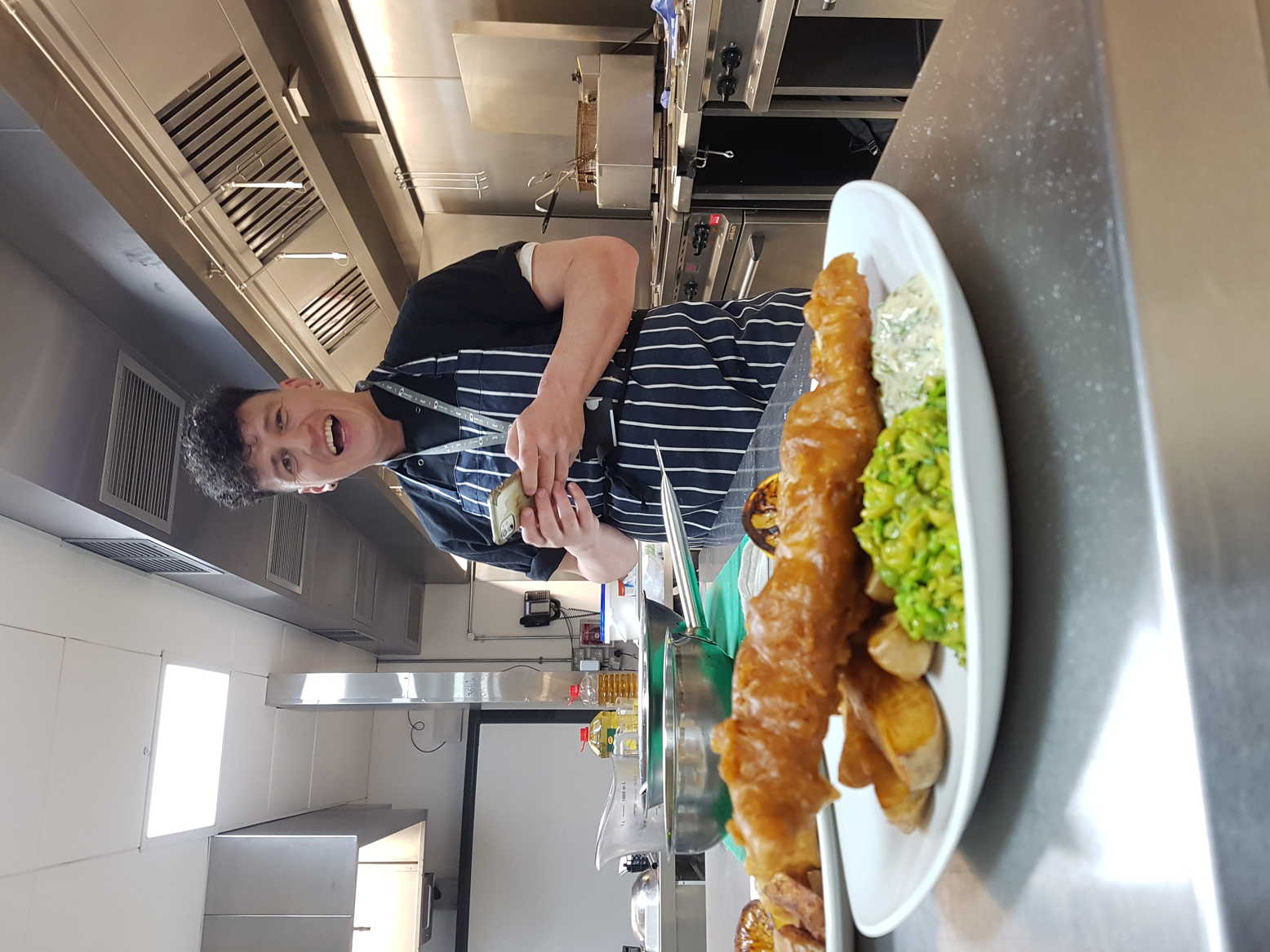 Cathy missed out on our last Dinner Party Dining Club cooking class at Kirklees College, at which we learned to make Fish and Chips.
So here it is!
Our
Chef de Instruction
David Wolves-Den demonstrated presenting the plate for serving:
Halve a lemon lengthwise.
Slice away one end at an angle so as to make a platform to stand the lemon on when serving.
Fry the cut-side in a hot oiled pan to char.
Position the charred lemon jauntily on the plate.
Add the fish, a stack of chips, a puddle of tartar sauce and a mound of mushed peas.
Beer Battered Fish
fish main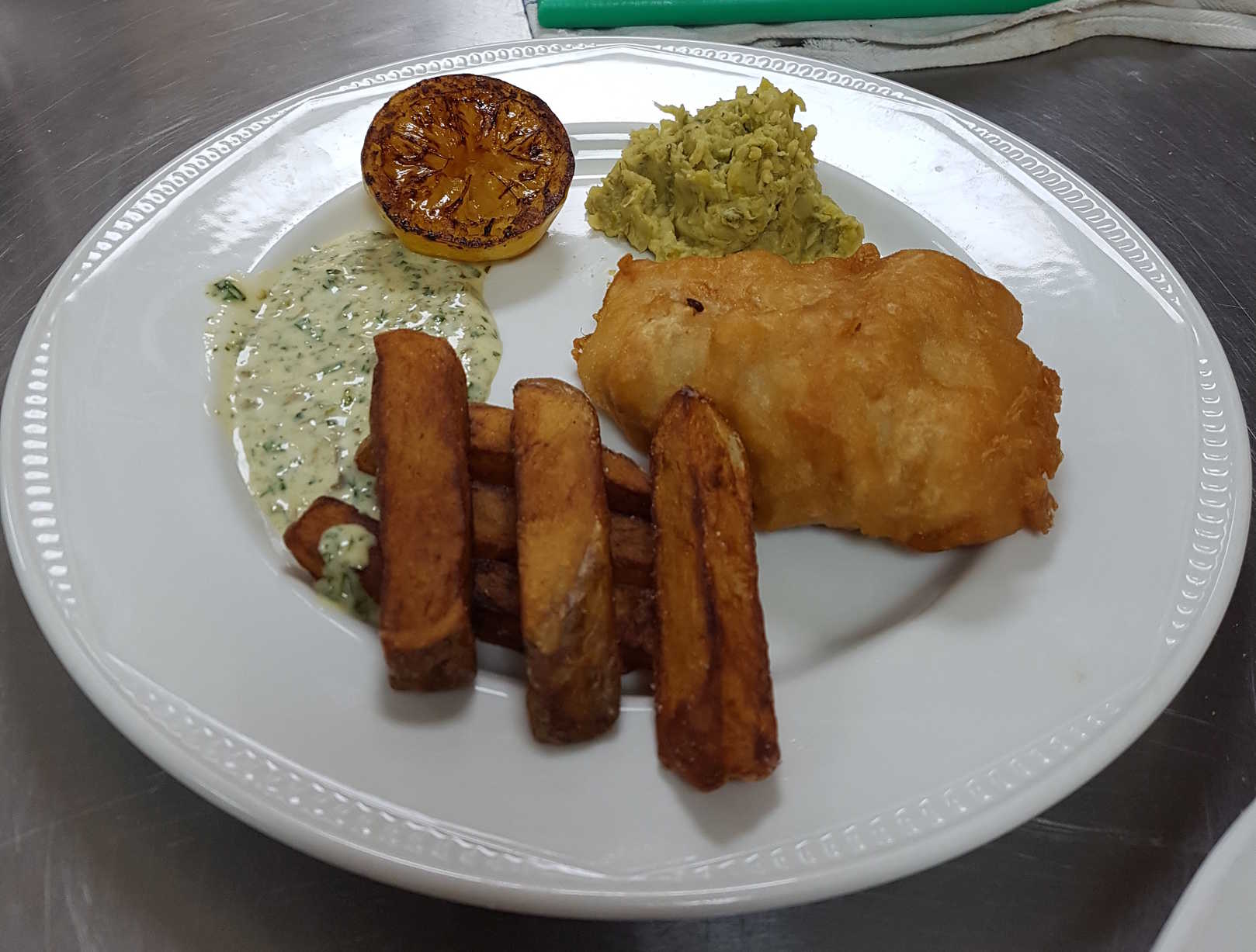 For my own batter I used
Samuel Smith's Nut Brown Ale
, I replaced about ⅓ of David's wheat flour with rice flour for crispness, and I substituted a packet of dried yeast instead of using the bicarbonate of soda and vinegar to generate bubbles when left to stand.
Oh, and I used cod. Because the pre-packaged fillets in my Local Fucking Supermarket™ were nice and fat. And because I don't have the opportunity to get to a proper fishmonger during the week, since they only open when people who earn money at real jobs are at work.
It's a mystery really, how they're all being replaced by supermarkets.
Serves 2
2x170g haddock fillets
½ can John Smiths ale
1 tsp bicarbonate of soda
white wine vinegar
150g plain flour
Put about 150g plain flour in a bowl, add a pinch of salt and 1 tsp bicarbonate of soda.
Stir in a splash of white wine vinegar and about half a bottle of beer.
Add enough water to mix to a slightly-thicker-than-cream consistency.
Don't overmix - leaving in lumps is fine.
Leave to stand for as long as humanly possible before using.
Pat the fish fillets dry with the cheapest blue catering kitchen roll on earth. You know, the stuff that falls apart and covers your food with blue lint every single time you use it.
Dust each fillet with plain flour then roll it in the batter to cover generously, shake off the excess batter.
Carefully lower each battered fillet into oil at 180°C:
Hold the fillet at a top corner.
Shake the fillet gently backwards and forwards once the lower edge is in the oil.
Release the fillet into the oil so it falls away from you.
Cook for 5-8 minutes until the batter turns golden.
Remove with a wire scoop or slotted spoon. Serve immediately.
Double-Cooked Chips
veg vegan staple
Chef David sneers at the excess of a triple cooked chip.
Two'll do. he opines.
Serves 2
oil for deep frying
2 maris piper potatoes
salt
Cut the potatoes into your preferred shapes - wedges, fat chips, or thin French fries.
Deep fry in oil at 140°C for about 10 minutes until cooked through but not browned.
Drain the part-cooked chips on kitchen roll, lay out on a tray and put in the fridge until needed where they will dry out nicely.

Turn the oil up to 180°C. Fry chips from the fridge for 3-4 minutes until they turn golden.
Salt and serve immediately.

Tartar Sauce
sauce veg
You can include the whites if you like, when making the mayonnaise for the tartar sauce.
Serves 4
2 egg yolks
vegetable oil
1 tblsp white wine vinegar
Dijon mustard
salt
gherkins
capers
lemon juice
parsley, chopped
Whisk two egg yolks with Dijon mustard (to taste), a splash of white wine vinegar, a sprinkle of salt.
Gradually whisk in a stream of vegetable oil until the emulsion reaches the desired thickness, clinging gloopily to the whisk.
Add a squeeze of lemon juice and finely chopped parsley, gherkin and capers.
Adjust flavours to taste - feel free to add some caper or gherkin juice if you like.
Keep in the fridge until needed.

Mushy Peas
veg side
Classic mushy peas are made from marrowfat dried peas, which are just the mature form of regular peas theoretically allowed to dry out naturally in the field.
Yeah I don't know what that means either, but it's all my research reveals.
I have no doubt that today marrowfat peas are no more naturally dried, than garden peas are naturally canned.
But whatever. That's what we use to get peas to go mushy. And they therefore need to be soaked.
Bicarbonate of soda is naturally added to accelerate this process, and help to preserve the peas' green colour.
Serves 2
100g dried marrowfat peas
½ tsp bicarbonate of soda


knob butter
handful chopped herbs
squeeze lemon juice
salt & pepper
To make proper mushy peas you will have to start the day before:
Pour boiling water over the dried peas. Add about ½ teaspoon bicarbonate of soda per 100g of dried peas. Leave to soak for 12-16 hours.

Rinse the peas off , cover them with fresh water, bring to the boil then gently simmer for about 30 minutes or so until the peas soften.

Arrange to have any excess water boil away, then use a potato masher to crush the peas with a generous chunk of butter, a squeeze of lemon and minced parsley or mint.
Season to taste.
Squashed Peas
veg side
Petit Pois are the botanical opposite of marrowfat peas in that they are regular green peas, just picked much earlier before they mature. As such they are smaller and sweeter than the garden kind, and will not need pre-cooking here. You can use frozen or (drained) canned petit pois directly, but if you're using fresh green peas you should par-boil them for a minute or two to soften them up.
Of course, they won't so much go mushy as squashed.
Serves 2
100g petit pois, fresh, frozen or drained from a can
butter
lemon juice
parsley or mint, chopped
Heat a generous knob of butter in a shallow pan until it foams.
Add the peas and swirl them to coat.
Add a squeeze of lemon juice and leave to simmer until the peas are soft.
Pour off any excess liquid, add chopped parsley (or mint) and lightly crush the peas with a ladle.